Your All-In-One Property Management Platform
We can save you money and time. Streamline Your Properties So Nothing Falls Through the Cracks.
Everything You Need in a Single Dashboard
We know you're getting pulled in multiple directions. That's why we developed a platform to help you navigate every aspect of your properties.
Digital Rent Collection
Maintenance Management
Simple Tenant Communication
Easy-to-Send Bulletins
Image of RentMindMe.com dashboard giving Property Managers like you an easy to follow overview of the properties you manage.
Manage Your Properties Remotely
Realistically, you're not able to be onsite all the time. Reduce the need to be chained to your desk. RentMindMe puts you in the driver's seat by personalizing the performance of our platform.  The simplicity of our rental management software allows you to oversee your active leases from virtually anywhere in the world.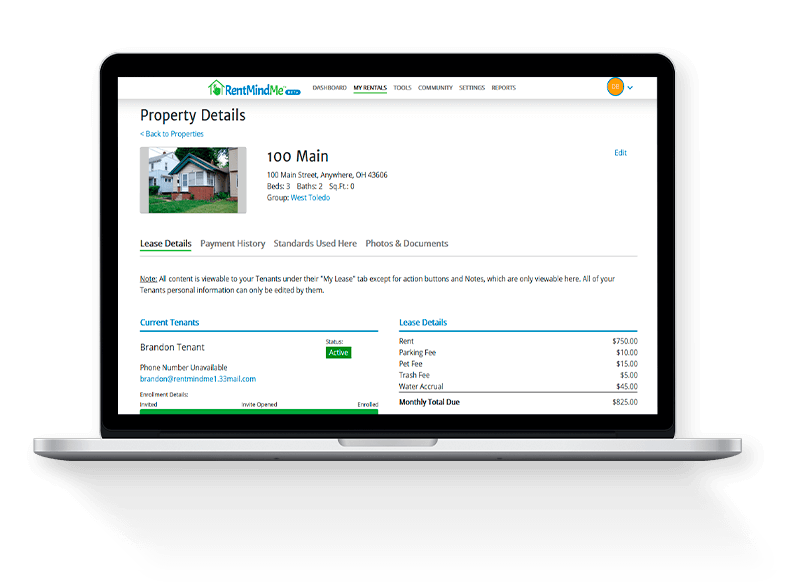 All Active Leases in One Hub
RentMindMe was designed by landlords so we understand the hassles that come with managing multiple active leases at a time. Save time (and headaches) while keeping track of rent collection, lease expirations and renewals in one central platform.
Dodge Excuses by Tracking Communication
Are you tired of excuse after excuse from your tenants? Easily communicate across mulitple channels with a single message. You save time, your message is transmitted to your selected audiences instantly.
RentMindMe allows you to communicate the status of a tenant's ledger as well as easily manage and record lease violations in one centralized place. Say goodbye to hard copy documents and filing cabinets that fall out of date. 
With RentMindMe, all of your property management tools are online, accessible all the time and always up to date. You can even brand the downloadable reports with your company logo to reinforce your brand's recognition with your clients.
Convenient Tools That Tenants Expect
We've listened to tenants and they want a digital platform to pay rent and communicate with their property managers. That's why we've made it easier than ever to manage your relationships with your actives lease holders.
Collect Rent Online
Provide Updates on Maintenance Work Orders
Automate Rent Payment Reminders and Lease Updates