When we launched RentMindMe back in 2017, we put controls in place to protect landlords from tenants short paying their rent. As the company has grown, and we've had the opportunity to gather user feedback, we recognize the opportunity to give some fluidity to our subscribers when it comes to their rent collection options.
RentMindMe is now able to provide landlords and property managers the ability to allow partial tenant payments. As a result of this feature release, tenants will no longer have to coordinate with landlords in order to get approval to short pay rent. If the landlord or property manager is comfortable with offering partial payments, RentMindMe.com can accommodate the need.
Let's take a step by step look at how to enable this feature.
Enabling Partial Payments
By default, RentMindMe prevents partial payments so you'll need to follow these steps to turn ON partial payments feature.
Update your settings
From your dashboard, find and click Setting in the main menu. From the drop down select Payments & Billing.

From the Payments & Billing page, click on the Partial Pay Rules tab.

From the Partial Pay Rules tab, choose the leases you want to allow to have partial payment permissions.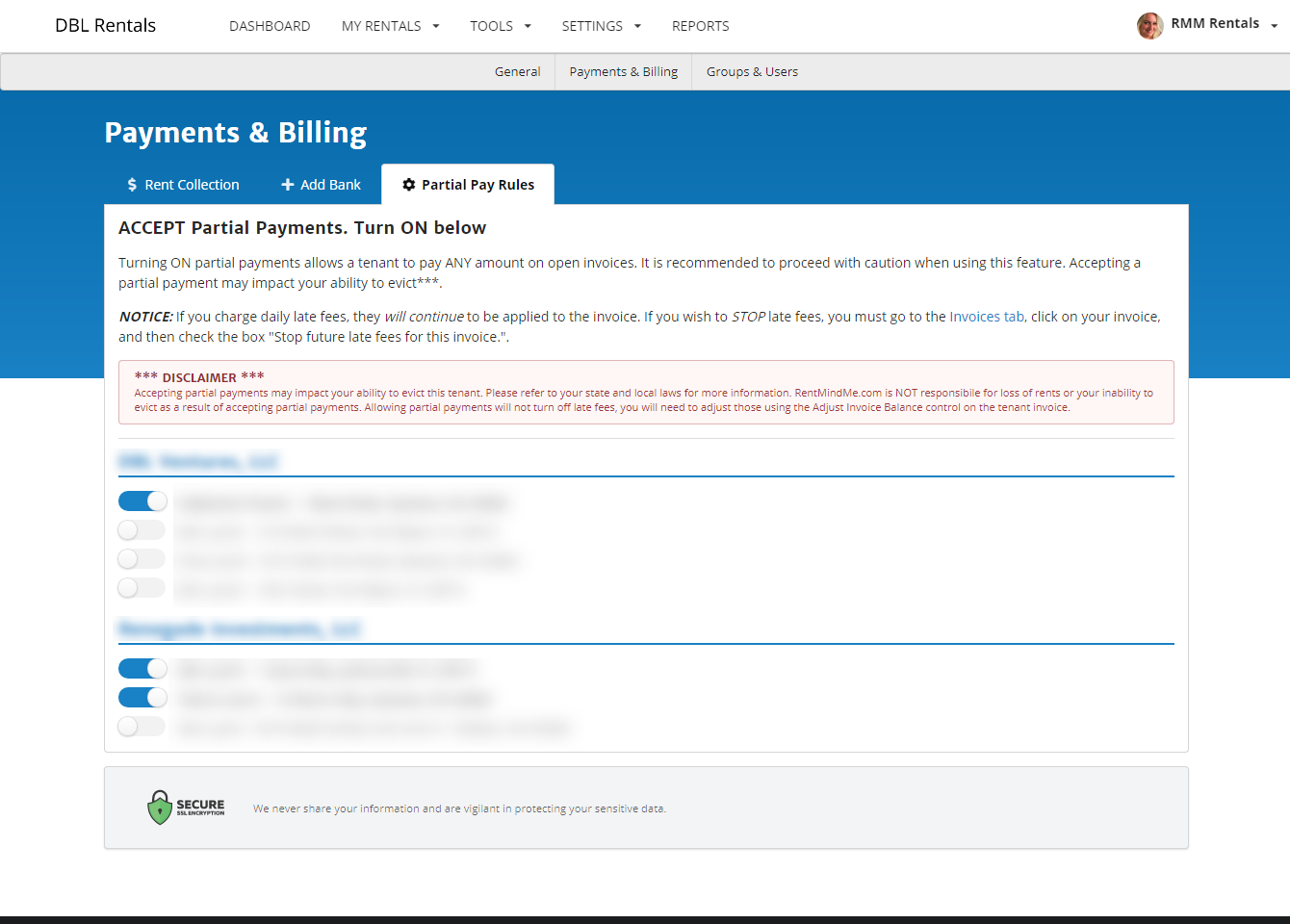 It's that easy to give tenants the ability to pay 1/2 this week and 1/2 next, if you so choose.
Turning Partial Payments off
In the event you recognize the need to turn partial payments off, its as easy as flipping a switch. Turning partial payments off restores the default experience for you tenants. Instead of being able to pay a portion of the rent, tenants can choose to pay their oldest invoice or current balance.
Give it try for yourself
If you think this feature will simplify your life, give it a shot! If you aren't collecting rent online yet, but know it could significantly help you, give us a call! Our team is ready to answer any questions you have or if you'd like to see a demo we can certainly arrange that as well.
For more tutorial content, check out our Rental Management Tips blog or browse our support page for short, helpful videos.