So you've been invited to join this thing called RentMindMe, but what is it? RentMindMe is an online property management software that helps landlords and tenants.
As a tenant you may be wondering what to do now that you have been invited to create your profile. This article will aim to quickly identify what you need to do and what you'll get out of having a RentMindMe profile.
Getting Started
Within your invitation you'll find two links. The first link opens the profile creation page. You will use this page to create your profile and to opt-in to receiving SMS / text notifications from RentMindMe. We have tried to make this step as easy as possible for you.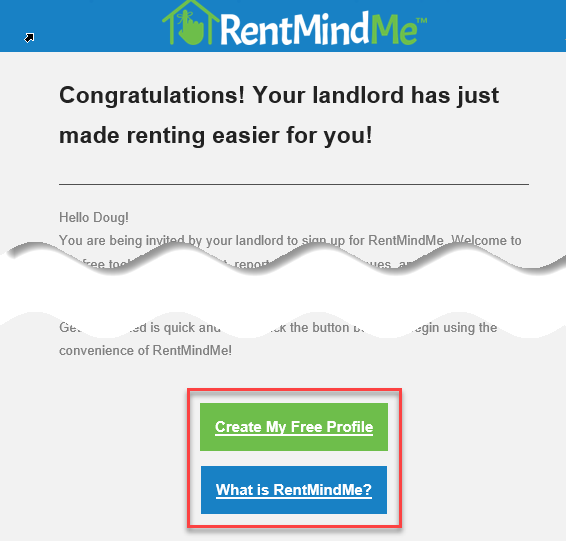 The second link opens an easy to follow guide for what you can expect from our software. It's a good idea to review this page so you can start to understand the benefits of RentMindMe for you as a renter or someone who is leasing to own a property.
Profile Creation
All you need to create a profile is an email address and to choose a password. Once you enter this information, click Register and you've set the wheels in motion. Optionally, you can opt in to SMS/text notifications. We recommend this to make life even easier, and we value and protect your personal information. After completing these two steps, you'll be ready to sign in for the first time.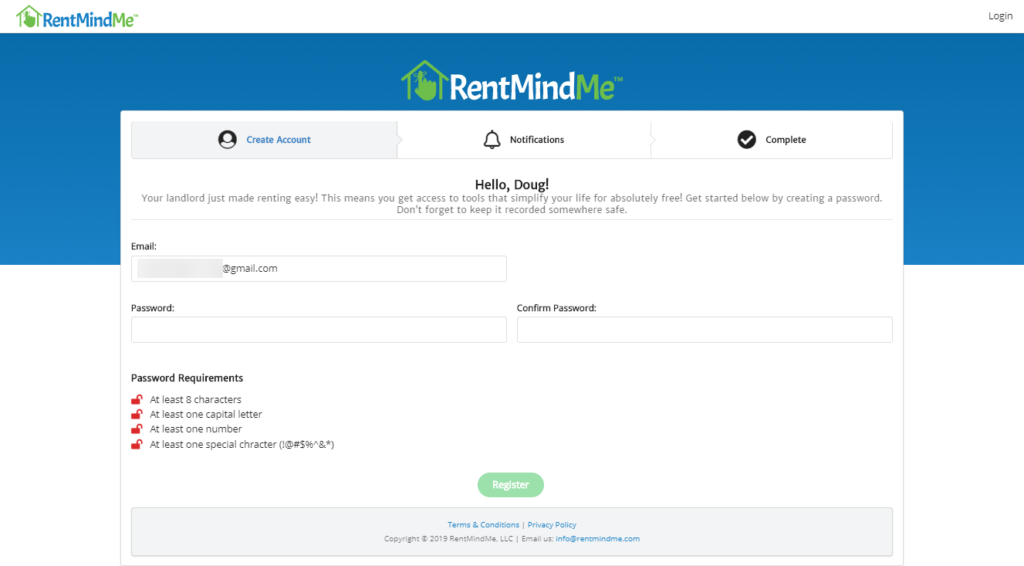 Signing In
Using the credentials you just created, click the login button on the registration confirmation page. As you sign in to RentMindMe, you will see your tenant dashboard. This page offers you short cut links to your lease details, work orders (maintenance requests), payment history and other features as they come online.
Setting up your bank account
In order to be ready to pay rent, you'll need to add and verify your bank account. This process will take 24-48 hours depending on how quickly the microdeposits hit your account.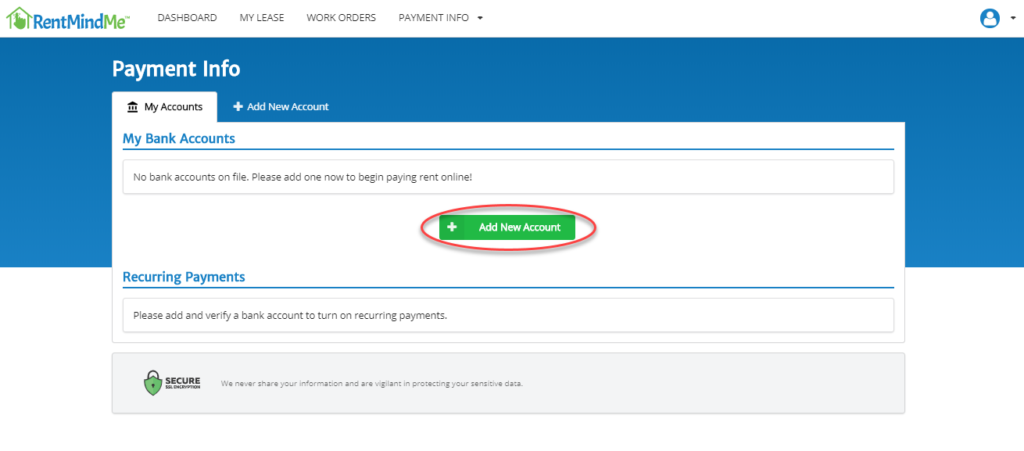 Microdeposits
These are two small deposits under $1.00 that will be deposited and immediately withdrawn from your account. You will enter the two deposit values into RentMindMe.com during your bank verification to validate that you are the account owner.
What's next?
Once your bank account is setup you're ready to go! All you have to do is submit your payment when the rent reminder comes in.
Other features that simplify your life
In addition to paying rent online, RentMindMe allows you to create maintenance requests with attachments so you can provide a concise summary of any maintenance needs to your landlord or property manager. Your profile not only provides you with your lease details but it also builds a payment history record for you, useful for demonstrating credit worthiness.
Checkout our instructional video for tenants to see more on how to get stared with RentMindMe.com. If you ever need us, give our support team a call at 419-318-0664. Schedule your free demo by visiting our website.